Welcome to: Derrindee Cocker & English Springer Spaniels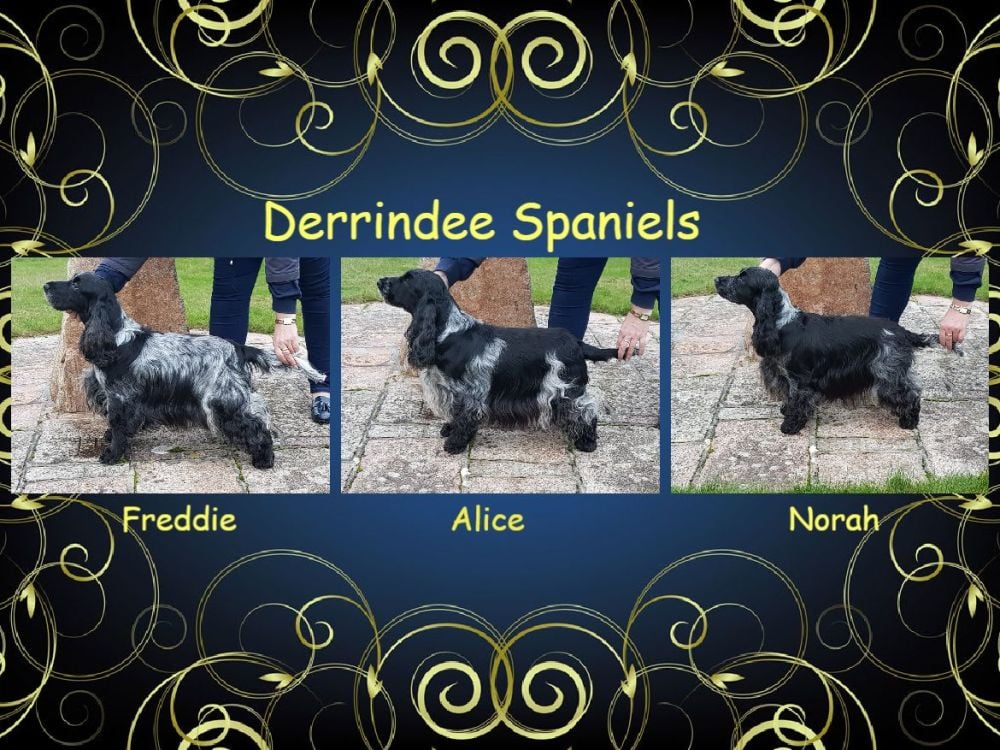 Through this site you will meet my three Cocker Spaniels - Freddie, Alice and Norah. You will see that they are beloved pets who enjoy swimming in the sea, going for long walks, getting twigs, grass etc in their coats and have a great time and then they get wash and brushed up for the Dog Shows.
If you are thinking of adding a Cocker Spaniel or English Springer Spaniel puppy to your household please read the Breed Guides, Living with a Cocker Spaniel and English Springer Spaniel and The Right Breed for Me before doing this. These guides will help to give you a detailed insight into life with a Cocker or English Springer Spaniel puppy and will help to make sure that a Cocker Spaniel or English Springer Spaniel is the right dog for you and your family. You might also like to have a read through Finding A Breeder to ensure that you are buying a Puppy from a Reputable Breeder and not a Puppy Farm.
I am a firm believer in promoting responsible breeding and as such all breeding dogs should be eye tested under the BVA Eye Testing Scheme and also they should be DNA tested through Optigen for prcd_PRA.
If you are looking to feed your dog a more species appropriate RAW diet I can help with this take a look at my Raw to Paw website for what I have in stock, together with some 100% Natural Healthy Treats.

To keep up-to-date with what's happening check out the "News" page :-))
Site last updated on Thursday 28th April 2022