Alice
"Kyna Slack Alice with Derrindee"
Born 12 October 2015
Sire: Sh Ch Kyna Albert Tatlock - Dam: Kyna Nora Batty
Optigen prcd_PRA Clear
FN Clear by parentage
KC/BVA Eye tested Clear for GPRA, CPRA & predisposition to Glaucoma (May 2018)

Stud Book No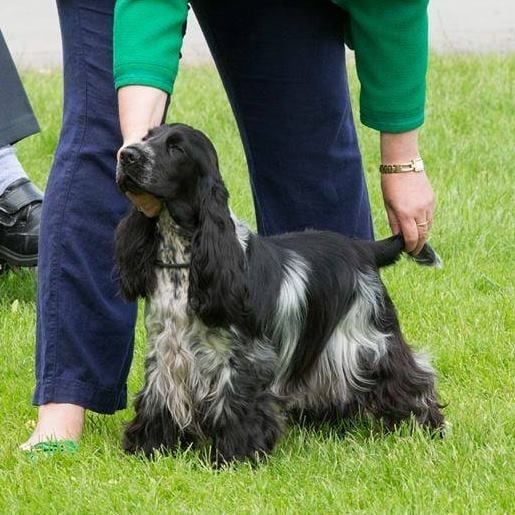 Let me introduce you to Alice, (photo above taken in June 2017) well what can I say we brought her home on the 14 December 2015 and she settled in straight away. Douglas was fantastic with her, very patient and loving with her. Freddie took a few days to take to her but now they are the best of friends and she is forever pulling him around by his ears and he takes it all in his stride and hardly ever tells her off, he would sooner jump up on the sofa and then she has a fit because she can't get to him. She has also won over Oliver who isn't that impressed with puppies, but all the little kisses she gives him has changed his mind!! Marvin has his moments when he will play with her and others when he thinks she is a right pain in the backside.
Alice has matured into a beautiful Cocker and continues to do well in the show ring, although sometimes I think he over enthusiastic nature gets the better of her, but better that than not enjoy it. She has taken some BoBs and Group placings throughout the Channel Islands and placed well at the shows attended in the UK qualifying for Crufts on our first trip out and gaining her Stud Book No later on in the year, which gives her Crufts qualification for life.