Norah
"Annilann Miss Dynamite with Derrindee"
Born 21 March 2019

Sire: Marquell Mister Goodnight by Annilann - Dam: Annilann Miss Altoe

DNA test - prcd-PRA - Hereditary Clear
DNA test - FN - Hereditary Clear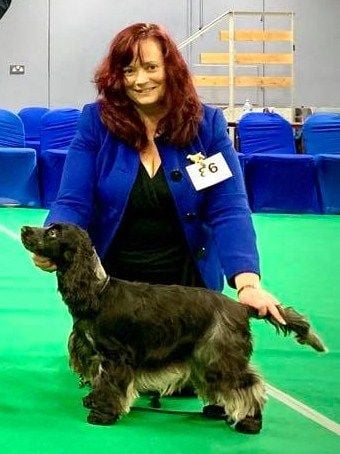 Norah at 11 months

This is little Norah who joined us on the 02 June 2019. After losing Marvin suddenly in February and then with Oliver being diagnosed with Lymphoma in April we thought it was the right time to introduce another little girl to the family and after speaking with Sam Whiting of the Annilann Kennels we were delighted that she agreed that we could have one of Spot's ("Annilann Miss Altoe") babies.

Norah below at nearly 5 months old is coming along really well and I'm really looking forward to getting her in the ring. She has taken to showing like a duck to water and is really enjoying it. She has had Gundog Puppy Group 1 and qualified for Channel Islands Puppy of the Year at her first Guernsey show in October and then followed it up by Gundog Puppy Group 2 in November. We did have some shows booked in December but weather prevented us attending LKA and illness prevented us attending an Open Show in December. Really looking forward to showing her in 2020!!

Norah has really matured over the last few months and at the Guernsey Kennel Club Members Show in February she won Best Cocker Spaniel Puppy, Gundog Puppy Group 1 qualifying her for Channel Islands Puppy of the Year 2021 and Reserve Best Puppy in Show.