Show News 2021
Show News 2002 Show News 2003 Show News 2004 Show News 2005 Show News 2006 Show News 2007 Show News 2008 Show News 2009 Show News 2010 Show News 2011 Show News 2012 Show News 2013 Show News 2014 Show News 2015 Show News 2016 Show News 2017 Show News 2018 Show News 2019 Show News 2020
December 2021 - LKA Championship Dog Show - Judge Mr L Hunt - Freddie 1st Veteran Dog. Norah showed beautifully but was unplaced in her class.
Critique from Mr Hunt - Veteran Dog - 1st De Carteret - Bitcon Spy For Derrindee, b/r 9yrs. Lovely head and stop with square muzzle, lovely shape to eyes with rims tight, ears placed low, carries a good neckline into shoulders laid well with depth to chest. front straight, holding good top line and body, well boned with feet padded firm, catlike, tail carried well, rear with good bend to stifles with hocks short, moved well and with ease, lovely veteran.
13 November 2021 - Kennel Club of Jersey Winter Championship Dog Show - Judge Mrs Fran Glendinning ("Plaigen") - Norah 1st Limit Cocker Spaniel, Best of Breed and Gundog Group 3. Freddie 1st Open Dog and Alice 1st Open Bitch. Photo's below taken at the show.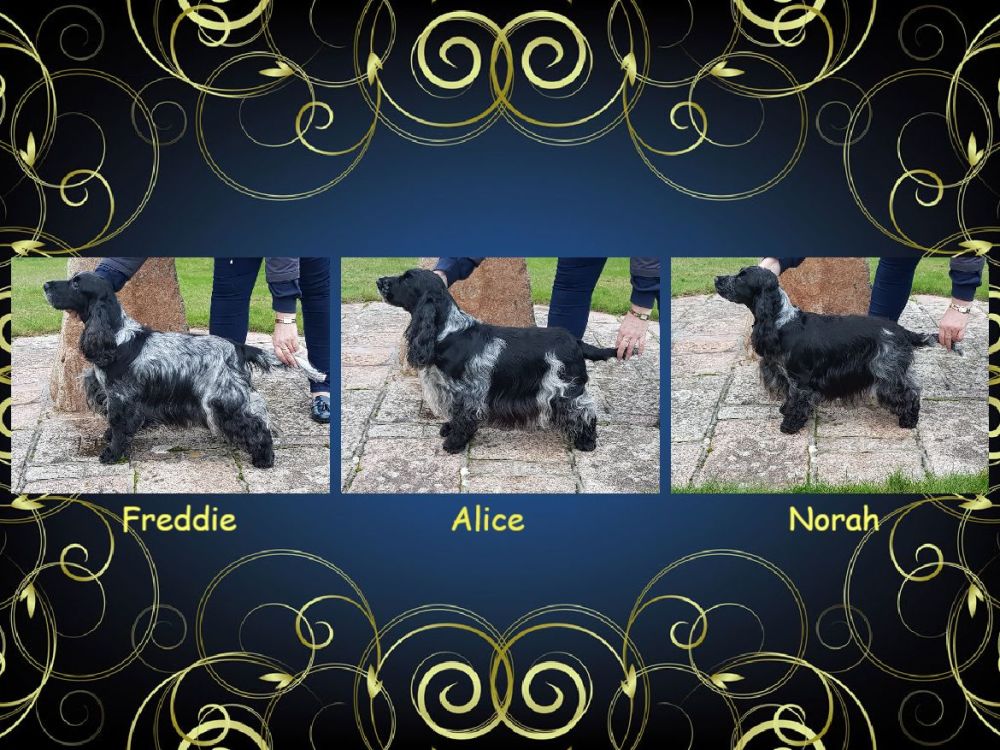 31 October 2021 - The Guernsey Kennel Club Winter Open Show - Judge Mrs C Morgan (Cwsscwn) - Norah 1st Limit. Freddie was under the weather and Alice is on a diet.
Critique from Mrs C Morgan - 1. De Carteret's Annilann Miss Dynamite with Derrindee. Nice type displaying the bustling Cocker movement. She has a beautiful head with depth in muzzle, dark eye, is clean in back skull, good depth of brisket, straight front and good return of upper arm. Her feet are thickly padded and she has a big, strong bum. Has great forward reach on the move. In the challenge I just preferred the lay of shoulder of the Open winner.
03 August 2021 - Finally we managed to get off the island and took in two shows the first being Bath Championship Dog Show - Judge Mr R J Morris - Freddie 2nd Veteran Dog and Norah 3rd Graduate Bitch. It was then up to National Gundog Judge ?? - Freddie 2nd Veteran Dog and Norah 4th Novice Bitch and 3rd Graduate Bitch qualifying her for Crufts 2022!!
Critique from Mr R J Morris - Veteran Dog 2nd De Carteret's Bitcon Spy for Derrindee - B/R rising nine years of age, head well balanced though skin slightly loose with aging, pleasing eye colour and shape, ears low set, presented in lovely coat and bloom with attractive feather. Well sprung rib cage, compact built, tail correctly set and carried. Graduate Bitch 3rd De Carteret's Annilann Miss Dynamite with Derrindee. B/R similar age to second bitch with attractive dark eye colour and shape presenting a pleasing expression, compact construction with correct topline good depth of body though would prefer sligthly less spring of ribcage combined with a little less body condition resulting in forward movement which did not quite match that of the winners on the day. Rear action was true with hocks well set.
Critique from Mrs J West - Veteran Dog 2nd De Cartert's Bitcon Spy for Derrindee. Nicely presented with slightly heavier head than 1st, good shoulder placement and well laid back shoulders. Covered the ground well on the move.
16 May 2021 - The Guernsey Kennel Club Resident's Show - Judge Mr B Hanney - It was so lovely to get into the show ring and spend some quality time with great friends. Norah was fist in the ring and won her Limit Bitch class, next was Freddie who won his Open Dog class and last was Alice who won her Open Bitch class. This meant that all three challenged for Best of Breed so with help from Natalie who showed Freddie and Jodie who showed Norah I was delighted when Norah was picked as Best of Breed beating her two older kennel mates. Nothing for Norah in the Group but she showed her little socks off and really enjoyed her day. Love these photo's that were taken on the day .. Thank you Jodie ... from left to right - Norah, Freddie and Alice ...
Critique from Mr B Hanney - Limit (2,1A) 1) De Carteret's ANNILANN MISS DYNAMITE WITH DERRINDEE, two year old compact bitch with super outlook and expression, feminine head, scissor bite, good lay of shoulder, correct topline, lively and full of action on the move covering good ground, BOB. Open Dog 1) De Carteret's BITCON SPY FOR DERRINDEE, nine year old male, fit and in good condition, still has good scissor bite, correctly proportioned head, good length and lay of ears, well muscled neck falling into correct level topline. Open Bitch (3,1A) 1) De Carteret's KYNA SLACK ALICE WITH DERRINDEE, well balanced bitch who was alert and moving with excitement, good angulation at front and rear, nice colours and markings.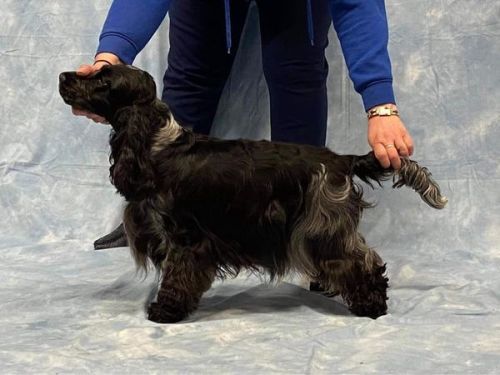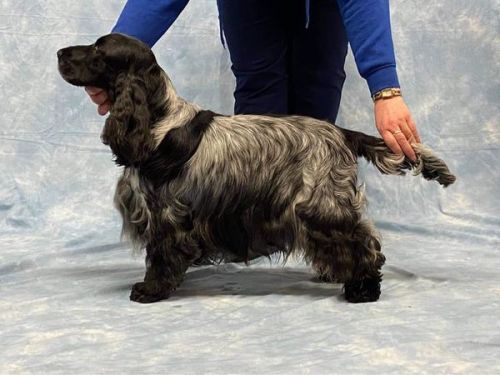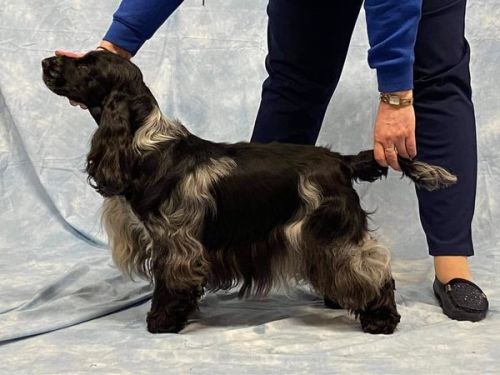 Nothing much to report on at the moment with all of us being in lockdown. Thought it was about time I had some up-to-date photo's of Freddie and Alice, Norah was being a little minx so no updates for her at the moment. I'm delighted with how Freddie is looking at the moment especially after the cancer scare I had with him last year, he is in tip top condition now, just hope we can get back into the ring soon. He is coming up to 8 1/2 now. Alice is looking lovely as well so easy to stack and groom, love her too bits.